Books by Dr. William Tate
Paperback ISBN 978-0-9557681-7-0
Hardback ISBN 978-0-9557681-8-7
About the book
Most organisations – public, private and third sector – know they need to offer better leadership. But in trying to do so, they too often look in the wrong place. Experience tells us that even heroic leaders are no better than the systems they work in. Flawed systems strangle leadership. The answer?
Stop polishing the fish. Tackle the water they swim in instead!
The Search for Leadership shows why it is naive to expect much leadership from individual managers acting alone. Only when we start to see leadership as a property of the organisation can we begin to improve it.
William Tate pulls no punches in his examination of leadership in business, politics and institutions like the police and the Health Service. Using forensic analysis, cogent argument and damning case studies, he shows why conventional leadership models and programmes miss the point and waste our money. In their place he presents a proven and practical 'Systems Thinking' approach that will transform the way leadership is developed, applied and held accountable for delivering results.
The Search for Leadership is a comprehensive study of the way leadership operates in organisations. The book is split into two parts – the Thinking Challenge addresses the theory of systemic leadership while the Intervention Challenge tackles the practicalities of implementing a systemic approach to leadership and leadership development in any organisation.
The book tackles both aspects on a theme-by-theme basis and chapters examine issues like:
the difference between managing and leading
what is working and what's not
why the process of leadership needs to be managed and how to do it
ways of improving leadership, besides development
how to balance supply of leadership talent with the organisation's demand
gaps down which leadership escapes
how to stop wasting leadership
the importance of the context in development, but why this is not enough
differences between management and organisation development in building leadership
the contribution of leadership competencies
how to develop a leadership culture
how to arrest the natural processes of decline and decay
how the learning of leadership is affected
how to talk the language of systems and how to think systemically
what is below the surface in the organisation's parallel shadow leadership system
a range of processes by which leadership can be properly held to account
how to diagnose organisations to discover where the potential lies for releasing leadership and how to achieve that.
Viewing Leadership from a Systemic Perspective: chapter in Organizational Management  (ed. P. Stokes), Kogan Page, 2016. Also see under News for more information, Announcements and Happenings for more information.
ABOUT THE BOOK CHAPTER
Dr Tate's chapter presents a whole-systems approach to leadership and its improvement in complex organisations. He addresses the question: 'How can an organisation best consider its own leadership needs, and ensure that appropriate leadership is applied, so that the organisation is better led as a whole?'.
Note five unusual things in this perspective: The book is about practical leadership matters that face real organisations. It is concerned with getting leadership applied. It is focused on improving the way the organisation works. It addresses the much neglected question of what is leadership for. And it shows how these aims demand that leadership has to be managed if it is to deliver its potential benefits.
It may come as a surprise that Dr Tate's approach is very different from the typical individual-based questions such as 'What qualities do leaders need?', 'How can we develop better leaders?', and 'How can we learn from Winston Churchill?' etc. In place of this familiar individual leader fare, the book embeds the study of leadership improvement in its systemic context, where the ability to think and see systemically is paramount.
The book chapter clarifies assumptions, models and theories that underpin the use of organisation development (OD)-based leadership interventions that are aligned with challenges, once we can see and understand the contexts as complex systems.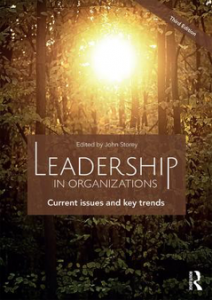 Linking Leadership Development with Business Need: From Individual to Organization: chapter in Leadership in Organizations: Current Issues and Key Trends (ed. J. Storey), Routledge, third edition 2016. Also see under News for more information, Announcements and Happenings for more information.
ABOUT THE BOOK
Leadership development has traditionally concentrated on individual managers and their needs, treating them as the client. Typical activity develops managers' generic leadership ability in relation to those reporting to them; i.e. leadership as high-end people management. This is valued by learners and considered useful for their jobs, careers and marketability. Such activity is tactical in nature, being semi-detached from the business's own needs and agenda. Other than showing a little concern for the problem of the 'transfer of learning' to the real work situation, developers mostly leave learners themselves to make the connection with the employer's business and actual workplace. All parties are fairly comfortable with this arrangement, including the employer underwriting the development. Yet it leaves much to chance from the business's standpoint. Contrasted with this familiar picture are some more strategic options for development's focus, where there is scope for a firmer link to the business and its needs.
Other books by Dr. William Tate
Demerging Organisations: A Guide to Best Practice, Financial Times Management/Prentice Hall, 1999.
Developing Corporate Competence: A High-Performance Agenda for Managing Organizations, Gower, 1995.
Developing Managerial Competence: A Critical Guide to Methods and Materials, Gower, 1995.
Corporate Social Responsibility Manual, ch. 'Governance and Leadership', Spiro Press, 2002.
Small Arcs of Larger Circles, Nora Bateson, 2016, Triarchy Press
Embracing Complexity, Jean G. Boulton, Peter M. Allen and Cliff Bowman, 2015, Oxford University Press
Managing Leadership, Jim Stroup, 2004, iUniverse
The Systems View of Life, Fritjof Capra and Pier Luigi Luisi, 2014, Cambridge University Press
The Biology of Wonder, Andreas Weber, 2016, New Society Publishers
Informal Coalitions: Mastering the Hidden Dynamics of Organizational Change,  Chris Rodgers, Palgrave Macmillan, 2007
Freedom from Command and Control, John Seddon, 2003, Buckingham: Vanguard Publishing
Working the Shadow System, Gerard Egan, 1994, San Francisco: Jossey-Bass
Thinking in Systems: A Primer, Donella H. Meadows, 2009, London: Earthscan
Systems Failure: Why Governments Must Learn to Think Differently, Jake Chapman, 2004, London: Demos
Changing Conversations in Organizations: A Complexity Approach to Change, Patricia Shaw, 2002,  London: Routledge
Systems Thinking for Curious Managers, Russell Ackoff with Herbert J Addison and Andrew Carey, Triarchy Press, 2010
Management F-Laws: How Organisations Really Work, Russell L Ackoff,  Herbert J Addison and Sally Bibb, 2007