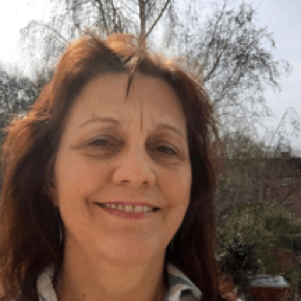 Anna Betz
Medical health coach and facilitator
Anna's background is in Health and Social Care with training in Herbal Medicine, Social Work, Mindfulness Practice, Transparent Communication, and Systemic Family Therapy. She practises a proactive evolutionary approach to Health and Wellbeing and leads on projects in the UK NHS using Mindfulness and diet for people suffering from chronic inflammatory diseases like diabetes and dementia. Her passion for building thriving and sustainable communities inspired her to co-found the HealthCommonsHub. She feels at home in places where individual, communal, organisational, and social evolution meet, and where people support each other in becoming whole and feel enlivened.
She has always had a keen interest in systemic thinking and empowering service users to co-create the service that could help them to discover and express their true potential. It is her experience that social change happens once we awaken to more parts of ourselves and that in others. When we respond to life with compassion we can't help but be the change we want to see in the world.
Anna is a lead practitioner with the Camden Memory Service, who has been working with Dr Claudia Cooper, a Camden Memory Service consultant and UCL researcher. She holds workshops in a project called Brainfood for service users to experiment with different foods and to experience the benefits on their health.